$15 — Includes $3 shipping and handling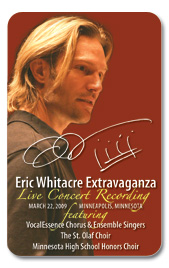 Please note: This is a download card, not a CD.
Hear the world premiere of Eric Whitacre's Nox Aurumque on this uniqute live recording of the complete "Eric Whitacre Extravaganza" concert. Choral superstar Eric Whitacre conducts the VocalEssence Chorus and Ensemble Singers, joined by The St. Olaf Choir and the 160-voice Minnesota Honors Choir, in a performance featuring many of his greatest hits. This performance was recorded live in concert at Orchestra Hall on Sunday, March 22, 2009.
Watch on YouTube:
Nox Aurumque
Cloudburst
All works by Eric Whitacre, unless otherwise noted.

1
Ehre sei Gott

(Felix Mendelssohn-Bartholdy)

The St. Olaf Choir (Anton Armstrong, conductor)

2
Loch Lomond

(arr. Jonathan Quick)

The St. Olaf Choir (Anton Armstrong, conductor)

3
4
A Boy and A Girl
5
6
Water Night
7
8
The Seal Lullaby
9
10
When David Heard

VocalEssence Chorus & Ensemble Singers

11
With a Lily in Your Hand

VocalEssence Ensemble Singers

12
13
Leonardo Dreams of His Flying Machine

VocalEssence Ensemble Singers

14
15
Nox Aurumque

(World Premiere)

VocalEssence Ensemble Singers & The St. Olaf Choir

16

Philip Brunelle's Comments

17
Oh, Dear What Can the Matter Be?

(arr. Norman Luboff)

Minnesota High School Honors Choir (Philip Brunelle, conductor)

18
For the Sake of the Children

(Jeffrey Ames)

Minnesota High School Honors Choir (Anton Armstrong, conductor; Charles Gray, viola)

19
Gloria from The World Beloved

(Carol Barnett)

Minnesota High School Honors Choir (Sigrid Johnson, conductor)

20
21
Lux Aurumque

Minnesota High School Honors Choir

22
23
Animal Crackers Vol. 1

Minnesota High School Honors Choir

The Panther
The Cow
The Firefly
24
25
Animal Crackers Vol. 2

(Midwest Premiere)

Minnesota High School Honors Choir

The Canary
The Eel
The Kangaroo
26
27
Five Hebrew Love Songs

Minnesota High School Honors Choir (Charles Gray, violin)

A Picture
Light Bride
Mostly
What snow!
Tenderness
28
29
Cloudburst

VocalEssence Chorus & Ensemble Singers, The St. Olaf Choir, and the Minnesota High School Honors Choir

30
31
Sleep

VocalEssence Chorus & Ensemble Singers, The St. Olaf Choir, and the Minnesota High School Honors Choir