Download Now from Instant Encore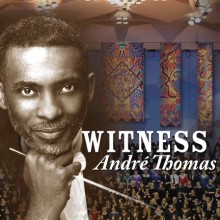 VocalEssence, The St. Olaf Choir and three Minnesota High School Choirs — Central High School (Saint Paul); Hastings High School and Washburn High School (Minneapolis) — are featured in a new live concert recording available exclusively by download from Instant Encore.
"WITNESS – André Thomas" was recorded in concert at Orchestra Hall on Friday, March 4, 2011, the concert featured African American Spirituals arranged by Dr. André J. Thomas. The entire concert can be downloaded for a single payment of $10, or individual tracks can be downloaded for $0.75 each.
VocalEssence Chorus

Sigrid Johnson, Philip Brunelle and André Thomas, conducting

1
African Noel
2
Deep River
3
Peter, Go Ring Dem Bells
4
I Open My Mouth
5
Go Where I Send Thee

The St. Olaf Choir

Anton Armstrong and André Thomas, conducting; Andrew Bourgoin, piano; Devin Orchard, Maggie Burke, Katie Burke, Karen Hopper, percussion

6
Here's a Pretty Little Baby
7
Hold Fast to Dreams
8
Rockin' Jerusalem
9
The Kingdom
10
My Good Lord's Done Been Here

Combined High School Choruses
11
Keep Your Lamps!
12
Barbara Allen
13
Swing Down, Chariot
14
Walk in My Shoes
15
I Couldn't Hear Nobody Pray

Combined Choruses
16
Beautiful City
17
I Dream a World
18
I Hear America Singing