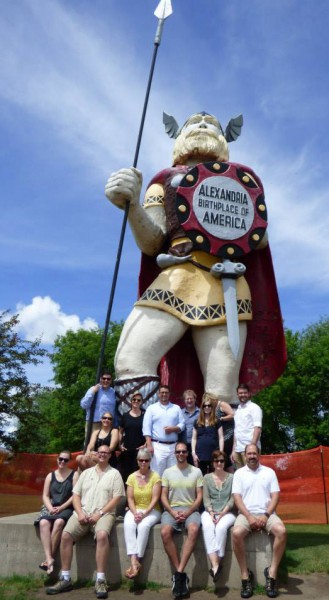 From the full houses for six performances June 23-28, 2015, to relaxation on the water and community engagement, the River Songs and Tales with Mark Twain: Alexandria Tour offered the VocalEssence Ensemble Singers a wonderful time in residence at Theatre L'Homme Dieu in Alexandria, Minnesota. The Star Tribune published an in-depth article on the theater and the VocalEssence tour, including this video of Don Shelby's transformation for a show.
The singers also performed at a fundraising reception for the theatre and were treated to a brunch as well as sailboat and pontoon rides by Dean and Deb Anderson, two supporters of Theatre L'Homme Dieu. See pictures of their time onstage and off in our Facebook album.
In a bit of spontaneous community engagement, members of the VocalEssence Ensemble Singers, led by Tesfa Wondemagegnehu, also performed at Ecumen Bethany Community senior living facility. This Ecumen video shows them performing "Let the River Run," "Down to the River to Pray" and "Down By the Riverside."
And, after singing at Ecumen Bethany Community, Ann Schrooten, Maggie Sabin and Bill Pederson attended an Oscar Meyer Weiner event in town and joined in on a record-breaking event for the most people singing the Oscar Meyer theme song!