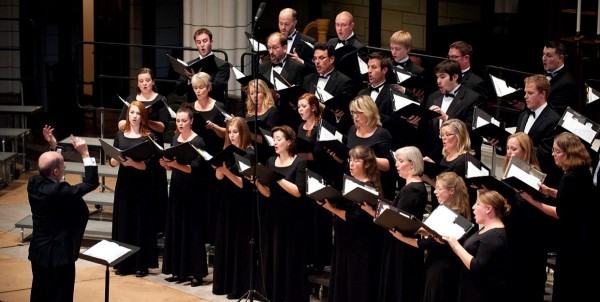 Listen to the VocalEssence Ensemble Singers, conducted by Philip Brunelle, performing "Child of Song" by Kim André Arnesen, dedicated to the memory of Stephen Paulus. If you want to hear it live, they will premiere the piece tonight at the American Composers Forum 40th Anniversary Celebration.
VocalEssence will also perform "Home" by Libby Larsen. The two selections are in honor of Forum founders Libby Larsen and Stephen Paulus; the texts are below.
Happy anniversary, American Composers Forum—and many more!
Home                                       Libby Larsen, 2013
"Do not urge me to leave you, to turn back
and not follow you. For where you go, I will go."
       – Book of Ruth, Chapter 16
If Blame be my side—forfeit Me—
But doom me not to forfeit Thee—
To forfeit Thee? The very name
Is sentence from Belief—and House—
– Emily Dickinson, c. 1863
Child of Song           Kim André Arnesen, 2014
Dedicated to the memory of Stephen Paulus
with great respect and thankfulness
Child of song, your music
sang from the bone,
the music of a visceral dancer.
The feral tree in full pearl green new leaf,
the squalling water alive around the swimmer,
is touched by your music, will always carry it.
No child of song
falls into silence
but into love's rest,
seeded with reawakening.
     – Euan Tait, 2014