Philip Brunelle, Artistic Director & Founder
July and August have definitely been 'music months' for me. July began with many planning meetings for the coming season and the first week concluded with an amazing patriotic event at the Anoka airport with 24 VocalEssence singers and 5000 motorcyclists and their motorcycles!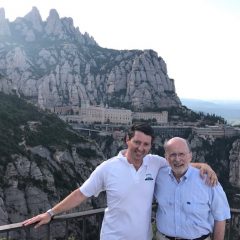 Then off to Barcelona for the 11th World Symposium on Choral Music for which I served as music adviser and a vice president of the International Federation for Choral Music (IFCM). 24 outstanding choirs from around the world were invited along with 32 guest lecturers and 15 commissioned composers (including Minnesota's own Jocelyn Hagen!). It was a fantastic event which is held every three years; the next one will be in 2020 in New Zealand.
Home for three days and then off to Kaili, China as co-artistic director of the first-ever World Ethnic Choir Festival and Voices Conference, another IFCM event. This was an amazing festival to organize which included two Chinese ethnic groups (the Dong and the Miao) plus ensembles and lecturers from Sweden, Mexico, Mongolia, Russia, Portugal, USA, Thailand, Morocco, Hungary, Gabon, and 50 choirs from all parts of China. This was definitely a challenge to coordinate, but it worked. The Opening Ceremony included 5000 performers and a stunning "Welcome to Kaili" spectacle which the Chinese know very well how to pull off!
The last music event was turning around the day after returning from China and flying to Washington State and up in the Cascade Mountains to Holden Village, a Lutheran retreat center where I served for ten days as Village Musician. This is a role I have performed many times in the past but it was the first time back after a horrendous fire destroyed thousands of acres of forest in 2015 and almost engulfed the Village.
Now I'm back and looking forward to an amazing 49th season with all the concerts, outreach programs and opportunities to make music for all of you.
Hear more about Philip Brunelle in The Renaissance Man Podcast: http://renaissancemanpodcast.com/
G. Phillip Shoultz, III, Associate Conductor and Education Program Director
I am rejuvenated and excited to begin the fall season after returning from an exciting summer full of research, presentations, and travel. The summer began in New York City, where I was a featured panelist in the Lullaby Project National Partners Meeting at Carnegie Hall. While there, I also visited Harlem to perform research at the Schomburg Center for Research in Black Culture in preparation for VocalEssence WITNESS: Of Such I Dream, focusing on Langston Hughes and the Harlem Renaissance.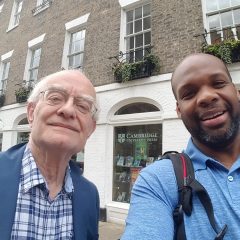 July was highlighted by a return trip to the C.S. Lewis Oxbridge Summer Institute held over the course of two weeks in both Oxford and Cambridge, England. I was a member of the 24 voice fully-professional Institute Chamber Choir and had the privilege of singing in some of England's most prestigious venues including Evensong services at Ely Cathedral and in the chapels of both King's and St. John's colleges. A highlight of the trip was the opportunity to spend two hours visiting with John Rutter in preparation for his visit to Minneapolis in April!
August led me to St. John's University where I had the opportunity to serve as the Conductor of the Minnesota Music Educators Association (MMEA) All-State Mixed Choir, which allowed me to work with the most talented young singers in the state. I led the 100 rising juniors and seniors in an all-Minnesota program where they learned and performed the works of Dominick Argento, Carol Barnett, Abbie Betinis, René Clausen, Catherine Dalton, Jocelyn Hagen, Jake Runestad, and Timothy Takach. While there, I also presented a featured session, Creating Community through Choir, to the state chapter of the American Choral Directors Association.
The day following the All-State concert, I could be seen leading nearly 1000 people in song as a part of Bring the Sing on the Capitol Green. The 90-minute community sing along, a partnership between VocalEssence and Classical Minnesota Public Radio, was a rousing success with participants clamoring for the next opportunity to sing together.
Now that the fall is upon us, I am finalizing program selections for the VocalEssence Chorus featured performance at the State ACDA Conference, preparing to lead workshops for many area schools and district teachers, and prepping for guest conducting visits to Mexico and Pennsylvania later this fall. I am also continuing to connect with our colleagues in Boston, Brooklyn, Chicago, New York, and Philadelphia to equity issues and most promising practices related to youth choral programs in preparation for the launch of our new Youth Choir next month. More information soon!