En Español
¡Saludos y feliz primavera de VocalEssence! ¡Esperamos que haya tomado unos minutos para crear el usuario y contraseña para su suscripción gratuita para nuestro sitio web de VocalEssence On-Demand. ¡Nuestro último correo electrónico tenia contenido y algunos consejos sobre cómo crear su inicio de sesión gratuita para disfrutar de los muchos conciertos que hemos creado este año para usted en VocalEssence On Demand! En este correo electrónico, hemos presentado una conversación de entrevista entre Gustavo Mancilla, CEO y fundador de MLatino Media, y el compositor invitado especial Novelli Jurado. Nos gustaría compartir más con usted sobre el trabajo que han hecho con VocalEssence, y el trabajo que hemos estado haciendo para profundizar nuestra relación con las comunidades LatinX en las Ciudades Gemelas.
Uno de los programas principales de VocalEssence es ¡Cantaré! – un programa escolar anual en que los estudiantes de primaria y prepa aprendan sobre la cultura, tradiciones, geografía, idiomas y música de México a través de los planes de estudio escolares con talleres de un año con compositores de México. Cada año, los compositores destacados visitan las Ciudades Gemelas tres veces al año para trabajar con los estudiantes y enseñarles música recién compuesta. Los estudiantes interpretan la música cada Mayo durante el ¡Cantaré! Concierto comunitario en el Ordway Center en St. Paul en frente de una audiencia de familiares, amigos y la comunidad en general. ¡Una verdadera celebración de la riqueza de México!
Uno de nuestros compositores celebrado es Novelli Jurado. Novelli ha participado como compositor residente durante varios años a través del programa ¡Cantaré!, tanto en las Ciudades Gemelas como con nuestro socio Chicago a Cappella en Chicago, Illinois. Novelli llegó a amar tanto su tiempo en Minnesota, que incluso conoció a su actual esposa Michelle aquí, ¡y ahora es residente de Minnesota!
Además de su trabajo como compositor, Novelli también es un experto en fotografía, videografía, ingeniería de sonido y mantiene un horario activo trabajando aquí en las Ciudades Gemelas. También es miembro del Comité de Aprendizaje y Compromiso de VocalEssence, así como del ¡Cantaré! Novelli ayuda a promover y informar el programa ¡Cantaré!
Gustavo Mancilla, fundador y director ejecutivo de MLatino Media con sede en Minneapolis. Gustavo se sentó con Novelli para conocer más sobre la perspectiva de Novelli sobre el trabajo con el que VocalEssence está comprometido para elevar y celebrar la cultura y la música Mexicana y Mexico-americana.
Esperamos que disfrute de esta breve entrevista mientras aprenda más de Novelli y sobre su trabajo con VocalEssence. También esperamos inspirarle a aprender más sobre VocalEssence y su programa ¡Cantaré!, además de informarle sobre formas en las que puede participar con nosotros!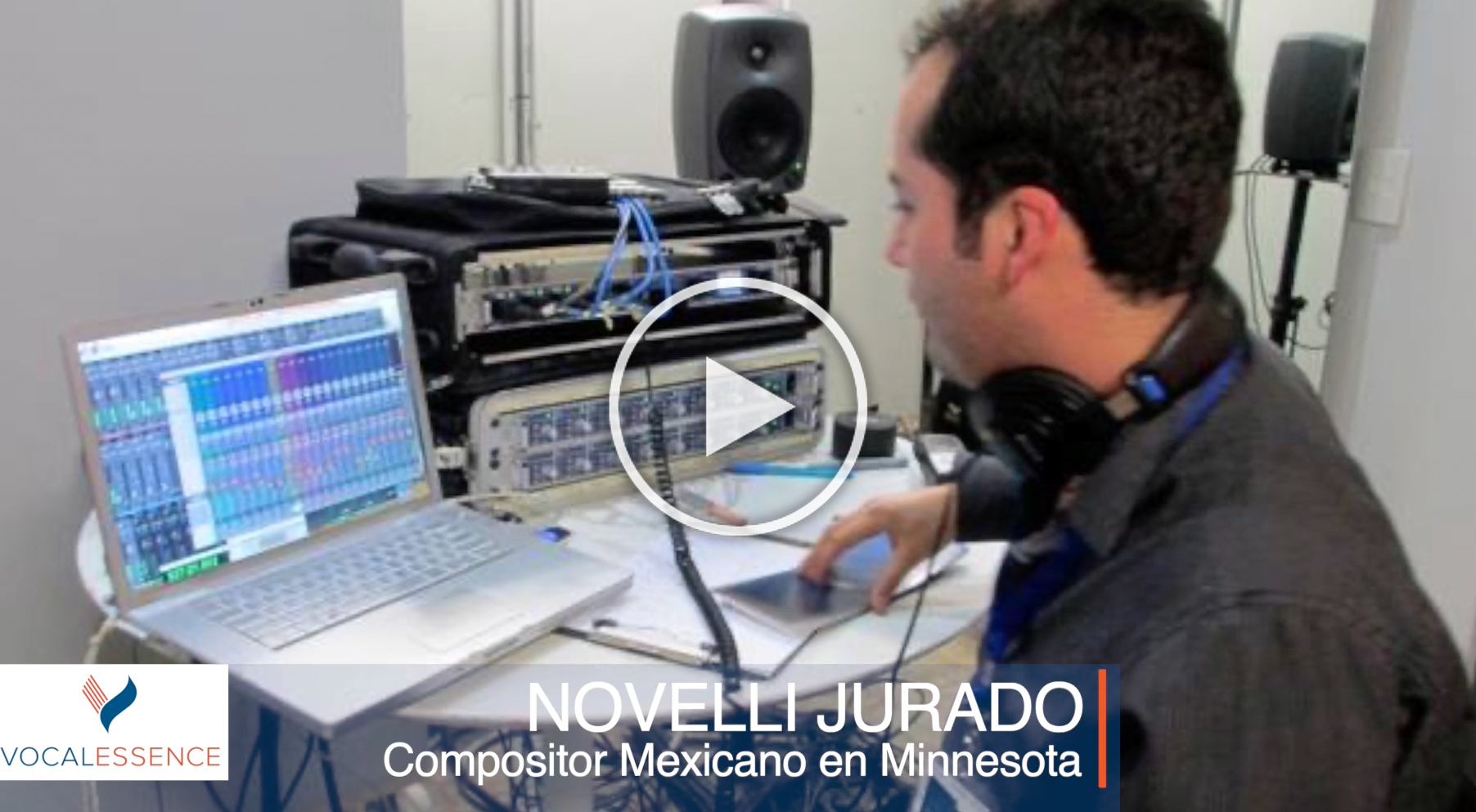 ---
En Inglés
Greetings, and Happy Spring from VocalEssence! We also hope you have taken a few minutes to create you received our last e-mail with some tips on creating your free log-in to enjoy the many concerts we have created this year for you on VocalEssence On Demand! In our last e-mail, we have featured an interview conversation with Gustavo Mancilla, CEO and founder of MLatino Media, and special guest composer, Novelli Jurado, who want to share more with you about VocalEssence and the work we have been doing to deepen our relationship with the LatinX communities in the Twin Cities.
One of the flagship programs of VocalEssence is ¡Cantaré! – an annual school program for elementary and high school students to learn about the culture, traditions, geography, languages, and music of Mexico through school curricula, as well as year-long workshops with composers from Mexico. Each year, the featured composers visit the Twin Cities three times per year to work with students in teaching them newly composed music, which those students perform each May during the ¡Cantaré! Community Concert at the Ordway Center in St. Paul, for an audience of family, friends and the community at large. A true celebration of the richness of Mexico!
One of our celebrated composers from Mexico, Novelli Jurado, has participated as a composer-in-residence several different years through the ¡Cantaré! program – both in the Twin Cities, as well as with our partner Chicago a Cappella in Chicago, Illinois. Novelli grew to love his time in Minnesota so much, that he even met his current wife Michelle here, and is now a resident of Minnesota!
In addition to his work as a composer, Novelli is also an expert in photography, videography, and sound engineering, and maintains an active schedule working here in the Twin Cities. He also serves as a member of the VocalEssence Learning and Engagement Committee, as well as the ¡Cantaré! Advisory Council, who helps promote and inform the ¡Cantaré! Program.
Gustavo Mancilla, founder and CEO of MLatino Media based in Minneapolis, sat down with Novelli to learn more about Novelli's perspective on the work VocalEssence is committed to in uplifting and celebrating Mexican and Mexican American culture and music.
We hope you enjoy this brief interview as you learn more from Novelli about his work with VocalEssence! We also hope to inspire you to learn more about VocalEssence, about the ¡Cantaré! Program, and ways that you may want to participate with us!