900 audience members in Moorhead experienced "eighty minutes of sheer delight" last Friday night, according to River Songs & Tales with Mark Twain attendee Dr. René Clausen, conductor of The Concordia Choir.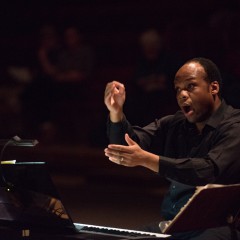 As part of an Arts Tour grant from the Minnesota State Arts Board, members of the VocalEssence Ensemble Singers, Associate Conductor G. Phillip Shoultz, III, fiddler Sara Pajunen, director Jon Cranney and Don Shelby as Mark Twain all traveled to Moorhead to engage the community in song.
The weekend was packed full of events, including:
Preview performance for the Concordia Chapel Choir encouraging them to come to the concert;
Professional development workshop for choral directors and Concordia College students, led by G. Phillip Shoultz, III;
Private violin lesson for a Concordia College student with fiddler Sara Pajunen;
Impromptu stop and performance in Fergus Falls at VocalEssence Ensemble Singer Robin Helgen's parents' home;
River Songs & Tales with Mark Twain performance at Memorial Auditorium on the Concordia College campus. The concert had 900 attendees, 480 of whom were high school choristers from small towns all over that region. Surveys from the audience mentioned that the concert made them "feel alive" and experience "sheer joy."
There are still three more performances of this amazing staged production throughout Greater Minnesota. Please join us!
Friday, April 8, 2016 at 7:30 pm
Historic Holmes Theatre
806 Summit Avenue | Detroit Lakes, MN
Tickets: Available online at www.dlccc.org or by calling 218-844-7469 or visiting the box office
Saturday, April 9, 2016  at 7:30 pm
Paradise Theatre
237 Union Street S. | Mora, MN
Tickets: Available on Monday, February 15, 2016 at the Paradise Theatre and other venues in Mora.  Click here  for more information.
Saturday, April 16, 2016 at 7:30 pm
Edge Center for the Arts
101 Second Avenue | Bigfork, MN
Tickets: Available online at www.reifcenter.org or by calling 218-327-5780