VocalEssence ¡Cantaré! brings the talents of composers from Mexico into Minnesota classrooms. This year's composers are Bernardo Feldman and Jimena Contreras, who were in Minnesota for a residency March 12-23, 2018.
I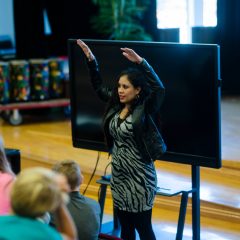 t was their second of three total visits to our VocalEssence ¡Cantaré! partner schools. This trip the composers had an opportunity to meet with the families of their students. Approximately 30 people gathered for a Sing 'n Sup event at Burroughs Community School in Minneapolis. Attendees shared a meal, created a maraca and a lucha libre mask, sang "¡Cantaré!" (a song that is sung at all the VocalEssence ¡Cantaré! Community Concerts) together, and talked with the composers. It was a fun night that gave families a fuller picture of all the experiences children gain through VocalEssence ¡Cantaré!.
The artists and students have been collaborating on original compositions. Jimena Contreras' piece for Prairie Seeds Academy found its inspiration in traditions associated with Day of the Dead. For the holiday, Mexican people create offerings for their beloved deceased ancestors that include photos, their favorite foods, fruit, candy, and marigolds.  One of the most beautiful stanzas from Jimena's composition, You Live in Me, is:
"To smile at life, to honor death,
Marigold petals under your feet,
Shine like the sun with every step,
Come with me tonight,
Embrace me and allow me to feel,
That you are not gone because you live in me."
Composer Bernardo Feldman found himself creating a piece heavy with meaning for the choir members at Rosemount High School. A student emailed him to share that a member of the Rosemount concert choir family passed away while traveling to see the eclipse last August, and suggested using one of her poems in a choir composition as tribute. Bernardo was very moved by the idea, and ended up translating the poem called "As a Flower Among Weeds" into Spanish to use as lyrics. Performing the composition will be an emotional experience for the students as they honor their friend's creative and artistic spirit.
The composers also enjoyed spending time exploring the beauty of Minnesota in the winter. Jimena had never seen snow and was thrilled to have time to play in it! We hope she got her fill, because it will all be gone by the time the composers make their way north again in May. They will be back to put the finishing touches on the preparations for the VocalEssence ¡Cantaré! 10th Anniversary Community Concert at Ordway Music Theater in St. Paul on May 22, 2018 at 7 pm.