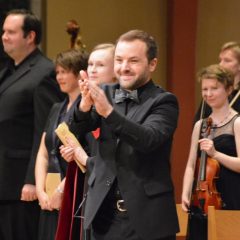 VocalEssence was pleased to present the Award for Creative Programming to Kyle Eastman, director of the Northfield High School Concert Choir. The award is presented annually to a Minnesota-based non-professional choral organization in order to uphold high standards of excellence in repertoire selection, to acknowledge and reward creativity in performing choral performance, and to affirm the importance of quality secondary and undergraduate choral training throughout the State of Minnesota.
We interviewed Kyle to learn more about his teaching style and what he is listening to now.
What does creative programming mean to you? Why is it important?
For both our singers (especially at the high school level) and our audiences, programming is the most important thing we do. I believe creative programming includes music which acknowledges our roots as choral musicians, covering repertoire from time periods ranging from Western Medieval to Romantic. It also includes and champions current composers and repertoire. A program should cross cultural boundaries, educating both singers and audience members about parts of our world and music which may be unfamiliar. A program should both entertain and challenge singers and audience members in an intellectual and emotional way, and it should tell a story—taking audiences and participants on a journey. I also believe programs, from concert-to-concert, should be varied, so regular audience members enter with a sense of, 'what will we get this time?'
What brought you to Northfield High School?
The community – it is an incredible place to be an artist & musician.
What is your favorite part about teaching choir? 
I'm hanging out with kids and making music every day. Having conversations with the singers about all of these topics, texts, and emotions is amazing. Watching them make connections and form opinions is by far the most rewarding part of this job.
Any crazy ideas for programming this season?
I am particularly excited about the programming juxtaposition the Northfield High School Concert Choir had during their solo set at the ACDA-MN festival with Mack Wilberg, An Americana Portrait. The choir sang a piece arranged by Brad Holmes called Weeping Mary, which is from the Social Harp, part of the American Shape-Note tradition. We then sang an incredible arrangement by Ethan Sperry, realization by Valarie Naranjo, called, Ute Sundance. This is the most authentic choral arrangement of a Native American song I have ever come across. I felt it imperative, in a concert celebrating American music, to have something from the Native culture included.
What are you listening to now?
I am always listening to Pearl Jam—I admire everything they do, especially their live set lists.
For choral music, I continue to come back to Santa Fe Desert Chorale's performance, 'Dancing the Mystery' (you can watch the whole thing on YouTube and be taken on an incredible journey over-and-over…) from the ACDA National Conference in Salt Lake City, 2015. Additionally, the recording of Wartburg College's set at the ACDA National Conference in Minneapolis last year. I also can't get enough Jake Runestad.