It is concert week for the VocalEssence Vintage Voices programs at Parkshore Senior Community in St. Louis Park and Ecumen Seasons at Apple Valley. Both choirs have been working hard with conductor Rob Graham and accompanist John Jensen.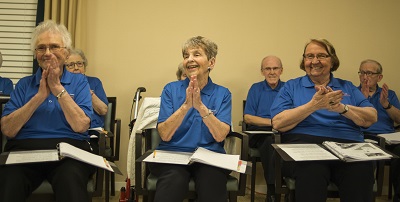 The Vintage Voices program from VocalEssence brings the many benefits—physical, psychological, and social—of choral participation to older adults. It removes barriers to engagement and participation by meeting seniors on their own turf—at senior living and community centers. The 12-week program, led by VocalEssence conductor Rob Graham and accompanist John Jensen, and supported in part by the Minnesota State Arts Board, integrates regular arts practice into the lives of participants with weekly rehearsals. After months of learning and collaboration, seniors get a chance to share their hard work and newfound skills with a public, end-of-season concert.
"Following our VocalEssence mission—to build community connections through song—is also providing older adults with so many other extremely important benefits," said Rob Graham, Vintage Voices conductor, VocalEssence. "Our older choir members are building new friendships, flexing cognitive muscles as they learn to follow sheet music and respond to choral direction, and feeding an innate human hunger for creative expression. I've witnessed the effects of weekly choral training for several years, and it's no surprise each time I see another study recommending the depression-fighting, self-esteem boosting, joy-bringing value of choir participation. It's magical."
"We are thrilled to be able to offer the Vintage Voices program to the seniors who spend time with us," said Jane Plumhoff, Fitness & Programs Coordinator, Parkshore Senior Community. "We're always looking for new ways to incorporate pro-health activities into our programming, and research suggests that group singing has benefits for memory loss, cognitive function, and mood. The activities vary from week to week, so our seniors never get bored, and you can see the pride as the weeks pass and they really learn how to perform as a united choir. Plus, it's a shared pride—they've all improved together, helping one another, and making new ties of friendship along the way."
The choir at Parkshore Senior Community takes the stage on Thursday, November 16 at 6:30 pm; participants at Ecumen Seasons of Apple Valley will perform on Friday, November 17 at 1:00pm. Receptions will follow after both concerts, which are free and open to the public.