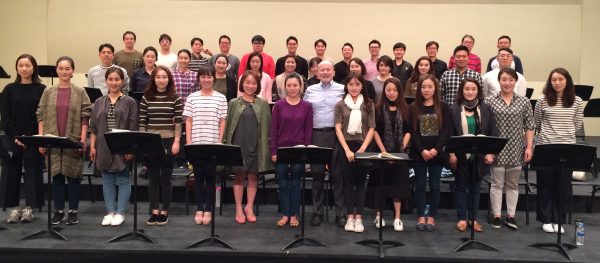 Artistic Director Philip Brunelle is presently in Seoul, South Korea conducting an all-American concert with one of Korea's finest professional choirs, the Ansan City Choir. Included in the program is "Peter Quince at the Clavier" by Dominick Argento, to celebrate Argento's 90th birthday on October 27.
When he returns, he will have a number of composer meetings with Jake Runestad and Olli Kortegangas (one of the composers featured on our Finlandia concerts), and perform a special home concert of Argento's music in his honor. In addition to preparing the VocalEssence Ensemble Singers for their performance of VocalEssence ReMix music, Philip will present the VocalEssence Award for Creative Programming to this year's winning conductor at the American Choral Directors Association of Minnesota Annual Conference this November.
Associate Conductor and Education Program Director G. Phillip Shoultz, III is visiting high schools in Minneapolis and Saint Paul and spreading the word about a surprise venture that VocalEssence is piloting this season. More information will follow on October 21.
He is heading to Pittsburgh this weekend to work with the Sewickly Presbyterian Church Church Chancel Choir. While there, he will hear a performance of the Mendelssohn Choir and meet with the leaders of area choirs to discuss the new VocalEssence venture.
Phillip is also preparing the VocalEssence Chorus for a solo performance at the American Choral Directors Association of Minnesota Annual Conference. The VocalEssence Chorus was one of only six ensembles selected, by blind audition, throughout the state to participate this year. We are sharing a diverse program featuring music from our upcoming concerts, as well as pieces in the South African and Scots Gaelic traditions.