"There is nothing like seeing the face of a composer who hears his or her music sung for the first time," says Kimberly Meisten, VocalEssence director of community engagement. VocalEssence ¡Cantaré! composers Julio Morales and Jean Angelus Pichardo returned to the Twin Cities in March for a two-week stay to help teach their newly composed songs within the context of Mexican culture to school and community partners. Schools received the music in January and had been looking forward to the composers' participation in rehearsals. The composers will return again later this month, spending a total of four weeks with their choral groups—and building excitement for the free ¡Cantaré! Community Concert at Ordway Center for the Performing Arts on May 21, 2015 at 7 pm.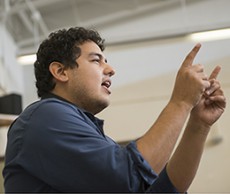 March composer residencies
At Blaine High School, students sang "En Paz" for Julio Morales, who afterward put his hand to his heart and said, "I want to cry." Julio talked with students about the reasons he had for writing this piece. During his residency in October, they requested that he write something with a lot of emotional depth. He gave this a great deal of thought, and although somewhat hesitant at first, decided to write a piece about a friend of his in Mexico who disappeared two years ago. He said the music is a way to express all of the feelings he has had about this very sad situation. Part of the tune for this piece comes from a love song he and his friend had composed together, before the disappearance. As the last lines of the lyrics convey, Julio still has hope: "And while the day lasts less, I still feel a breath knowing that you are in peace."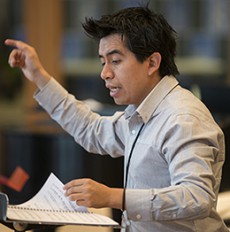 Exploring music, language and culture
"What language is this?" asked a curious fourth-grader from Partnership Academy in Richfield, while working on Jean Pichardo's song "Ti chisa" or "The Squirrel." The fourth song in Tu Mani', five Zapotec choral riddles for children, the lyrics pose a riddle, asking the listener to guess what animal it describes: "It is not a rabbit, neither a mouse. Is it scary? It seems that it is not." The kids were thrilled when they guessed correctly, but soon thereafter came their curiosity about the Zapotec language and culture. In addition to learning the song during the two weeks, Jean had planned activities to help them better understand this indigenous civilization that flourished in the Valley of Oaxaca during pre-Hispanic times.
Five more schools and community partners had similar experiences with Julio and Jean, and excitement continues to grow for the upcoming concert. In the past seven years, 4,090 Minnesota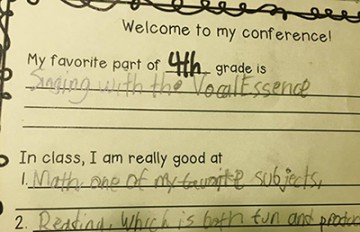 students  have participated in the VocalEssence ¡Cantaré! program—from 48 elementary schools, high schools and colleges—and more than 125 new choral works have been written by 15 composers. But perhaps this note from a  Minnehaha Academy student sums it up best: "My favorite part of 4th grade is singing with the VocalEssence."