You voted, and now VocalEssence and Classical MPR are preparing to reveal the listeners' choice top 25 choral countdown. Whether you are a soprano, alto, tenor or bass, the VocalEssence Listeners' Choice LIVE performances this April will wrap you in one big choral blanket of warmth.
Our singers cannot hold in their excitement: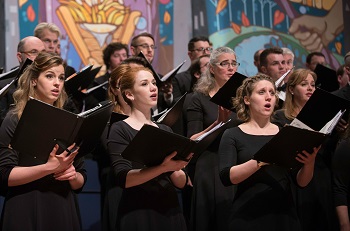 "Both I and the audience will be in musical bliss!" Tom, bass
"I can't wait to sing some old choral chestnuts!" Linda, alto
"It's all wonderful music!" Nick, tenor
"The men sound amazing!" Jennifer, soprano
Be the first to hear the top 15* songs performed at the VocalEssence Listeners' Choice LIVE concerts on April 22 or 24, and listen to Classical MPR, 99.5 FM, on April 29 throughout the day to hear the big reveal of all 25 songs.
Friday, April 22, 2016 at 8 pm
Sunday, April 24, 2016 at 4 pm
Ordway Concert Hall, Saint Paul
Concert Conversations at 7 pm on Friday with G. Phillip Shoultz, III and 3 pm on Sunday with Tesfa Wondemagegnehu from Minnesota Public Radio's Choral Stream
Tickets are on sale now
online or at 651-224-4222.
*While the winners are hush, hush until the performance, stay tuned to Facebook for a sneak-peek.
Concert Sponsor