The VocalEssence Vintage Voices program connects older adults with the benefits of group singing by forming choirs at senior centers and residences. While the program continued during the pandemic, the singers were limited to Zoom sessions. They missed the fun and togetherness of being in the same room. In early April, it finally became safe to restart in-person choir rehearsals!
Modifications Make In-Person Singing Possible
Conductor Rob Graham has an update on the newly modified rehearsals at Trillium Woods in Plymouth and Sabathani Community Center in Minneapolis. All participating singers and program staff have been fully vaccinated! "All of the singers were so excited to be back, and everyone is on board with our singer safety protocols," said Rob.
"Prior to entering the rehearsal space, the singers do a temperature and symptom check, and use hand sanitizer," said Graham. "The choir now sings with masks on, and everyone maintains six feet distance before, during, and after rehearsal," he said.
"We take a break after 30 minutes of singing to allow the HVAC system to clear the air in the room," he said. "We also provided singers with mask brackets to help keep the mask fabric out of their mouths, which will help with breathing and enunciation! We are working hard to ensure singer safety and wellbeing are at the core of everything we are doing together in person."
Singers Welcome the Return of a Favorite Activity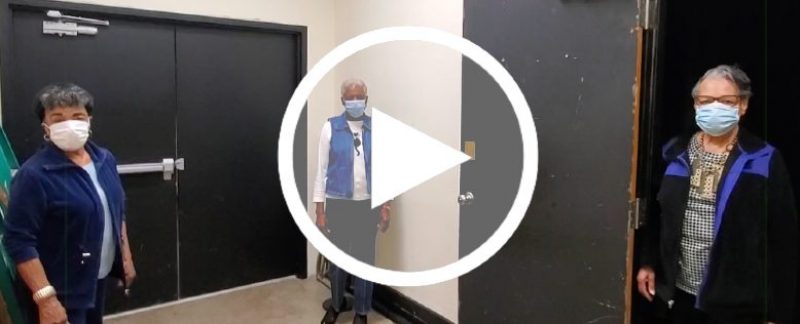 "To feel the warmth of the voices surrounding me, it makes me so happy," said Gwen Fraction of the Sabathani Vintage Voices choir. "I feel blessed to be here with all of my friends."
Her fellow choir member Shirlee Callender agrees. "This is our family! We call it a family, and we haven't seen each other in over a year. So to be able to exercise and sing is wonderful."
Soprano Becky McAlpine from the Trillium Woods Chorale welcomed the return. "It feels so good to be back," she said. While she appreciated the pandemic adaptation of Zoom rehearsal, "This is so much more fun. It feels so good to be singing in person."
Lucy Ingram, alto, confirmed, "I just couldn't wait. I'm so glad to be back to music," she said.
Conductor Rob Graham agreed, "Many singers shared that they learned a lot about technology during our Zoom rehearsal era, and were grateful to be able to stay connected with one another and make music in new ways. But, of course, nothing beats being back together in person," he said.
Upcoming Concerts from Vintage Voices
Sabathani Vintage Voices will rehearse for 10 weeks. The program will culminate in a free concert performance for friends, family, and the community on June 30, 2021. Time and location are yet to be determined as we work through the changing dynamics of the pandemic. Stay tuned for an update!
The Trillium Woods Chorale will also rehearse for 10 weeks. The program will culminate in two outdoor summer performances on Tuesday, June 22 at 2 pm and 3 pm on the Trillium Woods Terrace. All plans are subject to change with conditions of the pandemic.